Quality Musky Bucktail Fishing Lures & Baits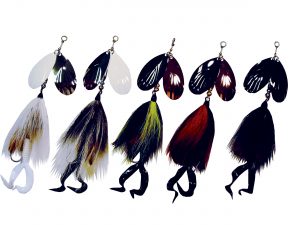 In 1992, Roger Williamson, nicknamed "Catfish", created "Cat's Tails" Lures. Since then, the original muskie and pike lures have been a proven fish catcher.
Our musky and pike lures were the very first musky bucktail lures to incorporate a single trailer hook, pheasant feathers, and a plastic teaser tail. This idea started the "plastic revolution" in musky fishing tackle.
Today there is an extensive variety of Cat's Tails musky and northern pike lures, all of which you will find for sale on this website. So take a look around, pick a few favorite baits, and get set for the best fishing of your life!
Original Bucktails
Cat's Tails Original Musky Bucktails…"Not Just Another Bucktail"
This is the muskie bucktail lure that put Cat's Tails Lures on the map. A very versatile bait, the "Original" Bucktail can be fished at multiple depths depending on your retrieve speed. A treble hook with single Siwash trailer hook and twin tail plastic teaser is deadly as an attractant or when fish are striking short. Add your own choice of teaser or leave the trailer naked to hook those wary fish that nip at the tail.
Cat's Tails Super 8s Bucktails
Our "Cat's Tails" Super 8s Bucktails are out of the same mold cast as the original bucktails, with the difference being two #8 fluted blades, and 4 color patterns.
These are the smoothest running bucktails ever, with super lift, and instant blade spin!
Both styles of these bucktails are also made with our new special, ½ ounce keel weights, great for trolling, deep downrigging, or casting, with absolutely no tumble or line twist!!
Cast or Troll the Best…Fish with Cat's Tails Quality Musky Tackle!
Vibrating Action of the Pheasant Feathers, and trailer/attractor, Drives Fish Wild!
New & Improved!
Vinyl Powder Coated Blades
Keel Weighted
Great for Trolling or Casting
Extra Strong Stainless .062 Welding Wire Shaft
Try our Cat's Tails Bucktails in 5 styles & 10 color patterns.
Cat's Tails Musky Rats Surface Baits
One of the easiest to work musky surface baits you will ever use. Slow to moderate retrieves work best, providing a tantalizing wiggle and roll. Two hooks and super tough paracord tail.
Cast or Troll with the best…Fish with Cat's Tails Tackle!