Quality Musky & Pike Bucktail Lures & Baits!
In 1992, Roger Williamson, nicknamed "Catfish", created "Cat's Tails" Lures and began creating high quality muskie and northern pike lures and baits.
These original pike and musky bucktail lures have been a proven fish catcher! These baits were the very first musky bucktails to incorporate single trailer hooker, pheasant feathers and plastic teaser tail. This idea started the plastic revolution in musky fishing tackle.
Since then, the original muskie and pike lures including Cat's Tails musky bucktails and musky surface baits have proven to be excellent, durable baits The largest reported muskie and northern pike caught on Cat's Tails Lures have been a 53" Muskie, and a 44" Northern Pike.
FREE SHIPPING ON ORDERS OVER $250!
Today there is an extensive variety of Cat's Tails muskie and pike lures all of which you will find for sale on this website. These same muskie and pike lures have also proven to be great fishing tackle on the Great Lakes fishing for Lake Trout, smallmouth bass, Lake Superior pike and they're also great lures for saltwater fish.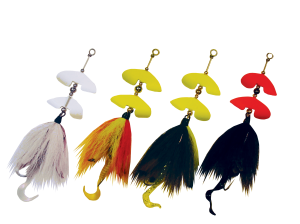 Cat's Tails Lures popular Original Musky Bucktails have been followed by a full line of custom muskie bucktails including the compact bucktail minis made with a single Siwash trailer hook and plastic teaser tail, the Super 8 Bucktails with two #8 fluted blades designed to bulge the surface or work over high weed cover, and the topwater bucktail baits designed to be an extremely weedless surface lure that rises quickly and kicks up a fuss with its twin counter rotating blades.
These bucktails are designed to catch muskies and pike and will produce all season long.
The musky bucktails are designed specifically for muskie and pike fishing.
Our Little Spin Devils with their 3 ½" spoon are perfect for pike, lake trout and saltwater species. Tied using bucktail/pheasant feathers, holographic tinsel and bent wire these spinning baits create erratic action with a forward spinner.
Cat's Tails "Musky Rat" surface baits are one of the easiest to work surface baits you will ever use. Slow to moderate retrieves work best, providing a tantalizing wiggle and roll.
So take a look around, pick a few favorites, and get set for the best fishing of your life!